It's January 22, 2015. It's 22 days into 2015 and I'm already bored and unsatisfied with how my life is. I'm sure if it is because I'm unsure of what exactly my future holds at the moment, with my workout regime, my location, or my lack of excitement.

I'm not in school this semester, Spring 2015. It's not completely my choice to not be attending again until the Summer 2015 semester but it is something that had to be done for many different reasons. Maybe that's what is making me feel unsatisfied. I love learning and right now I feel like I'm not learning a lot. I want to start and run something important. I want my life on this Earth to be important, but I'm not even sure how to get there.

I started 2015 with the goal of finishing Kayla Itsines's Bikini Body Guide (the first 12 weeks). I've started the Kayla Itsines's BBG weeks 1-12 before but I've never completed it. I always get really bored. I don't know why either. Kayla's BBG consists of 12 weeks with three resistance training workouts a week that consist of two circuits that last about 7 minutes each. The whole workout should only take about 28-30 minutes to complete. It's hard. It's extremely challenging and there are days where I just can not complete the Bikini Body Guide's workout for that day. I also don't feel satisfied with my workout after completing it. I know I worked hard. I can feel the sweat on my body and the soreness in my muscles, but I just don't feel happy about it. I feel much more like a loser than I believe someone who just finished an intense workout should feel.



Posted January 14, 2015 on Instagram while completing Kayla Itsines's BBG workout

I also promised myself that during the first 6 weeks of the year I would participate in ToneItUp.com's Love Your Body 2015 series. This would be happening during the same time that Kayla Itsines's workout would be going on. I really love Karena and Katrina's workouts that are posted weekly on the Tone It Up website. The community that Karena and Katrina have created on their own website and through other social medias that include Instagram, Twitter and Youtube is an amazing community. Girls and women are coming together to encourage one another to complete their goals to love their bodies and to enjoy working out. They have competitions throughout the year that include both the Love Your Body series and the Bikini series. It's amazing. You can find most workouts on their websites or purchase the Tone It Up Nutrition plan and receive weekly member-only emails and a few DVDs to keep all the workouts together! It's an amazing website run by two amazing and motivating women. Between the two mentioned workout series I enjoy ToneItUp.com's much more than Kayla Itsines. There is nothing wrong with Kayla's BBG except for the fact that it doesn't excite me. I get very bored with it very quickly.

I look back to early 2014 when I was on a steady workout routine and was actually getting in shape and stop self-hating I wasn't doing either of these workouts. I was following MuffinTop-Less.com's Fit Body Guide and I loved it. I LOVED actually lifting heavy weights and not those small 3 or 5 pounds dumbbells and body-weight exercises (even those workouts can actually make you really really sore if you do them correctly and enough). Maybe I need to stop following what everyone else on social media and my life is doing to get in shape and just do what works for me.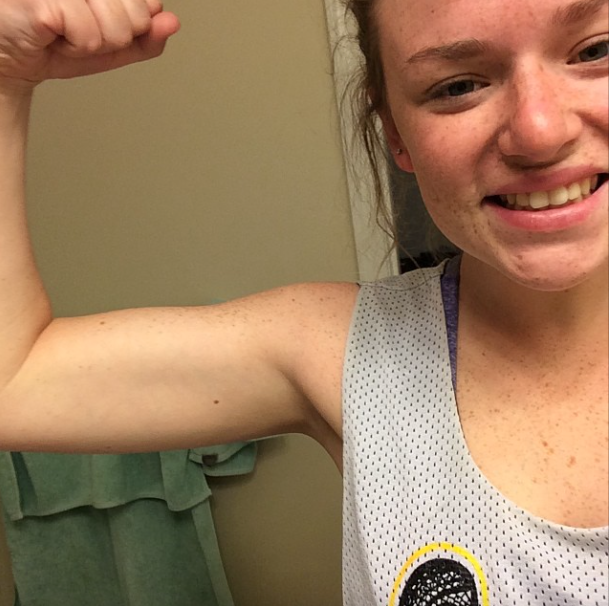 posted May 21, 2014 on instagram while doing the muffintop-less workout

I need to travel. I feel trapped and alone here. I have my family here though. Why am I trapped? My boyfriend and his family are here. Still trapped. I feel like I'm stuck in a room and no one visits. Is this normal?

I need to figure this out. This is my future. This is my happiness.