Remember a few summers ago when Kate Middleton was pregnant and had the first Royal Baby? I was there. I was in London when the Royal Baby was born! I was also surprised about how much the locals didn't really seem to celebrate the new Royal baby but it was all over the news. Everywhere. The papers being handed out as you entered the Tube were covered with pictures of pregnant Kate and with the words "ROYAL BABY BOY" plastered all over her face.

I spent 5 weeks in the beautiful, historic London, England during the Summer of 2013. It's been almost two years and I still miss that city every single day of my life. During my time in London my loved ones back home would've thought I wasn't having the time of my life. I was definitely homesick but that was because I didn't find my friends that were in my study abroad group yet. Once those were found, I loved every waking second during the warmest summer London had seen in years.
We started our trip by leaving the Atlanta airport around 5pm EST on a Lufthansa airline that headed straight to Frankfurt. That flight might have been the worst flight of my entire trip. The girl who sat next to me brought the worlds largest pillow and most unnecessary blanket for the flight. She wouldn't even try to move when I needed to get up to pee (or almost puke, like I said, worst flight of my life). We were laid over in Frankfurt for a while before flying to London. Once we landed in London I was beyond eager to meet a group of friends and get to exploring. I had plannedthis trip for almost 8 months by the time I landed in London. I slaved away at work and I saved money - and had money gifted to me by my parents THANK YOU SO MUCH MOM & DAD. What I didn't realize was that as soon as I got to my room and carried my luggage to my room, that I would be completely exhausted and in need of major sleep. I had traveled since 5pm EST and was now in London at 2pm GMT which was basically 9am EST! It was crazy, but they wouldn't let us sleep. They told us to go out and explore.
I had met one girl during my layover in Frankfurt and she was in the room down the hall from mine. We headed out with another girl to find all the things on the "scavenger hunt" list that was given to us. The weather was absolutely beautiful and definitely not the London we were expecting. We went to Leicester Square, Trafalgar Square, found the Sherlock Holmes pub (but didn't go inside) and we basically mastered the entire Tube in 6 hours or so. Ahh, now I understand why they wouldn't let us hang out in our rooms all afternoon….
The next day the entire group were required to go see Hampton Court Palace. Talk about another beautiful London day! We explored every room, that open to exploration, inside the castle. It was my first castle! I ended up falling asleep on the train to and from the castle. Luckily people in our study abroad group recognized each other so as we were getting off we awoke the ones who were still sleeping.
Within the first week classes I met up with a friend of mine who was also studying abroad through her university! It was awesome to see someone's face who I knew from back across the pond! We met up at a pub that was between her tube station and my tube station. It was interesting to see how the local pubs had some "imported" beer that was domestic beer back home! They said they always have American beers come over during late June and early July due to the American holiday, July 4th! (We all know about July 4th!)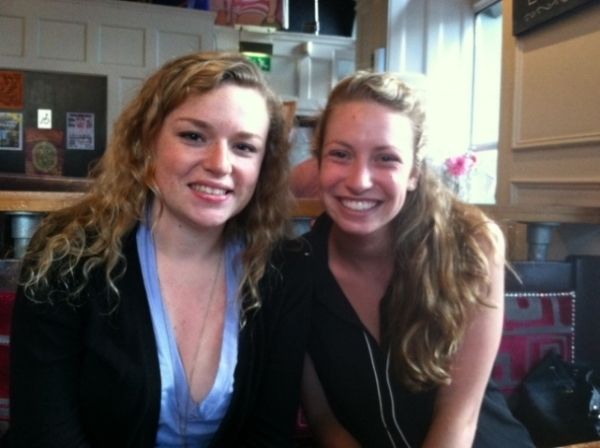 I would give away the details of the rest of my trip, but then I wouldn't have another blog post to write!